3200W Outdoor Radiant Strip Heater
Inclusive of all taxes
Shipping
Free Delivery
12 months limited warranty
---
About This Item
The Bonaire 3200W Outdoor Radiant Heater combines sleek design with powerful performance, offering year-round comfort and convenience for outdoor spaces.
Outdoor radiant heater for year-round comfort

Sleek black design

Heat control remote

Four power settings

Heating capacity up to 32m²

Durable and weatherproof (IP65 Rating)

24-hour off timer for convenience

Silent heating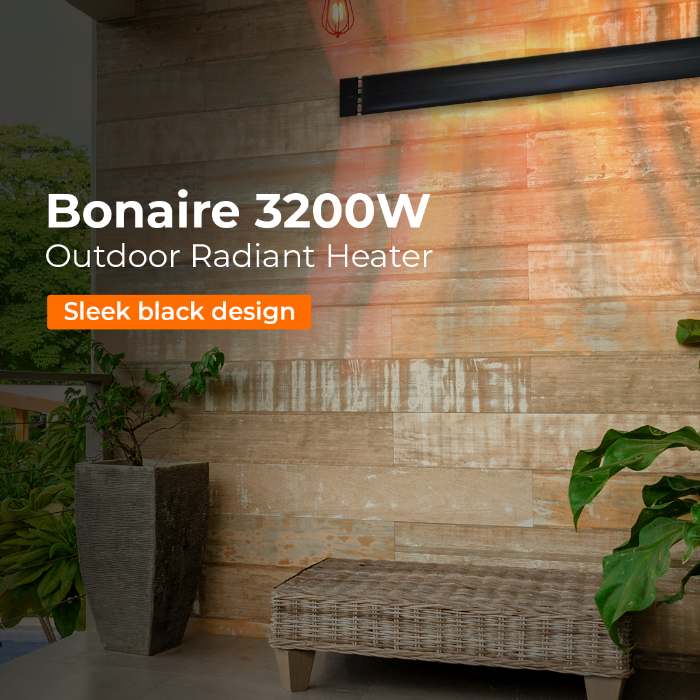 Product Description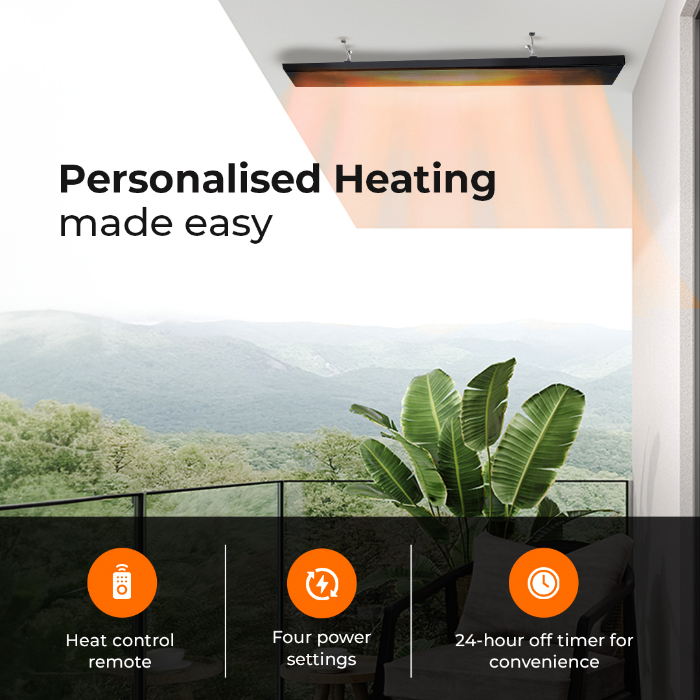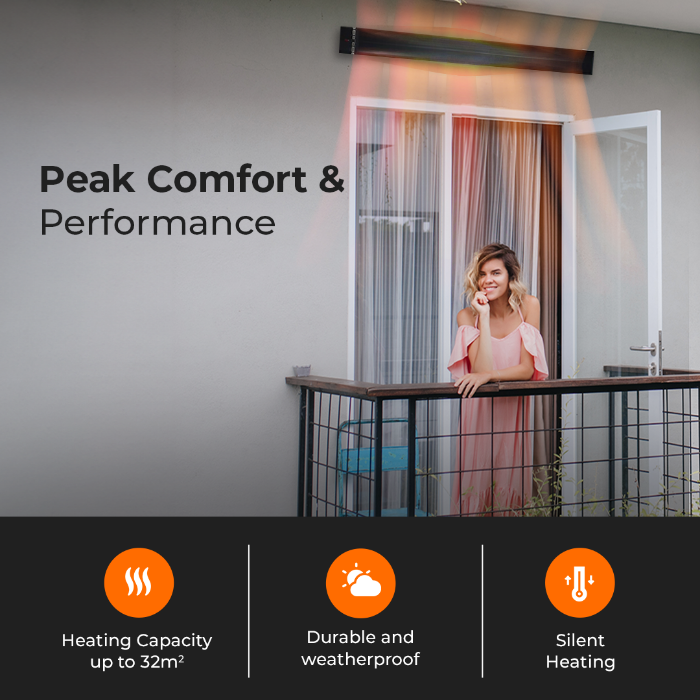 Product Feature
Remote Control
Conveniently adjust heat settings and control your outdoor environment from a distance with the included remote control.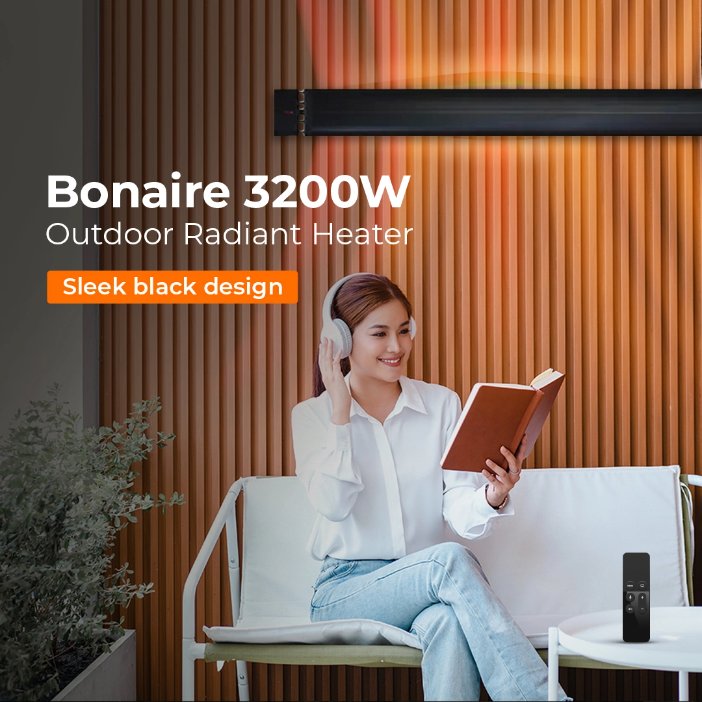 Tailored Heat Settings
Choose from four power settings to fine-tune the warmth to your preference, ensuring optimal comfort for any occasion.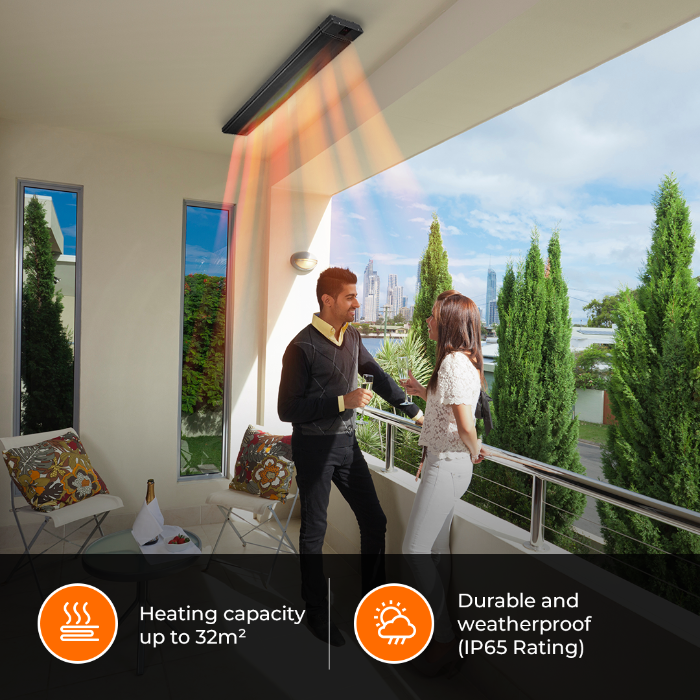 Large Coverage Area
With a heating capacity of up to 32 square metres, the heater can transform even spacious outdoor areas into cosy retreats.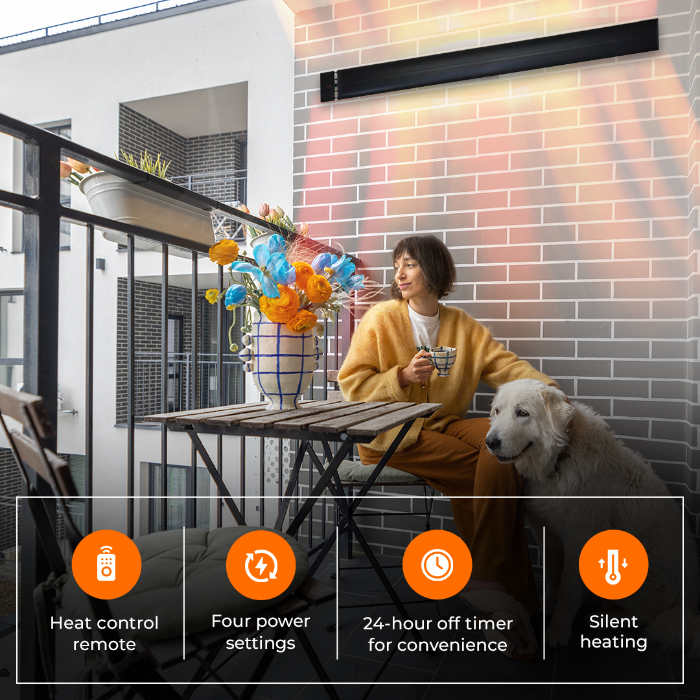 Durable And Weatherproof (IP65 Rating)
The heater is engineered to withstand dust and water, ensuring reliable performance in various weather conditions.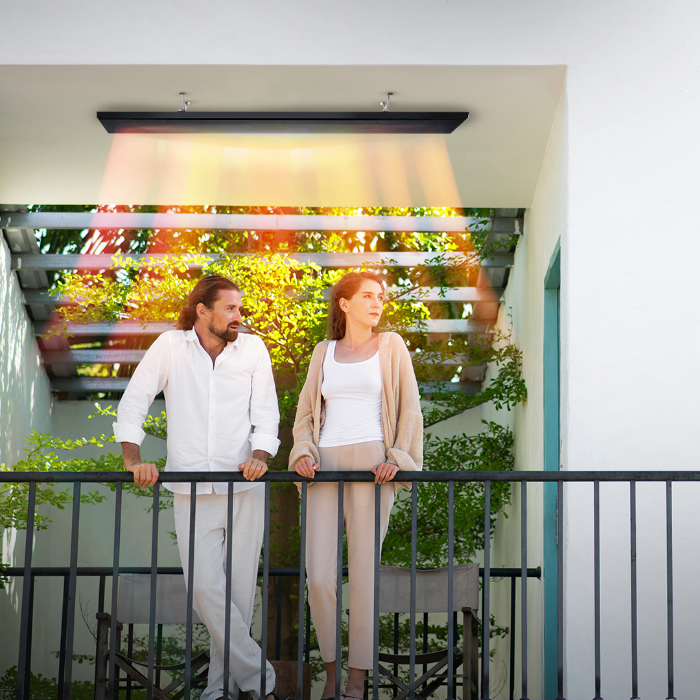 24-Hour Off Timer
Set heating periods in advance with the integrated 24-hour timer for added convenience and energy savings.
Silent Heating
Enjoy warmth without the noise, as the heater operates silently.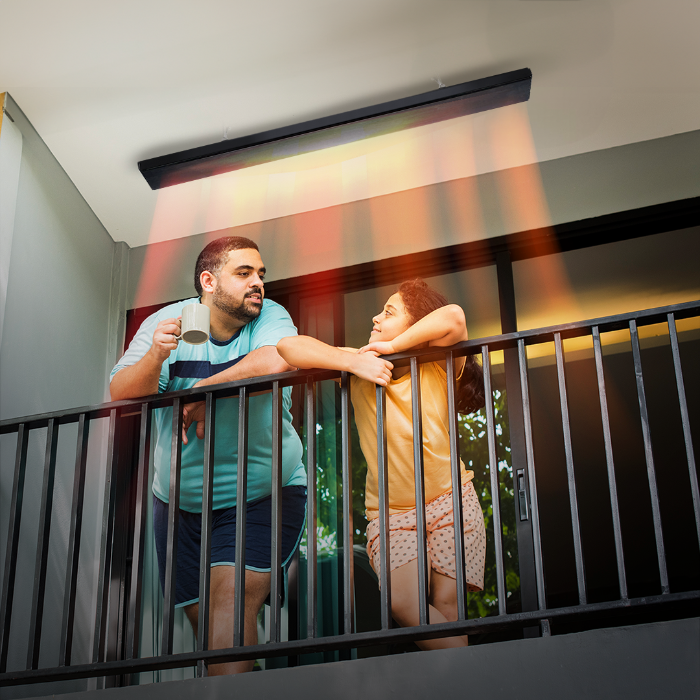 Product Specifications
| | |
| --- | --- |
| Parameters | Duet |
| Power | 3200W |
| Surface Temperature | 300℃ |
| Current | 13.3A |
| Carton Dimensions (mm) | 250 x 150 x 2220 |
| Gross Weight (kg) | 14.3 |
| | |
| --- | --- |
| Parameters | Duet |
| Coverage Area | 25-32 square metres |
| Voltage/Frequency: | 240V 50/60HZ |
| Unit Dimensions (mm) | 189 x 67 x 2125 |
| Net Weight (kg) | 12.3 |
| Warranty | Domestic - 5-year limited Commercial - 1-year limited |
| | |
| --- | --- |
| Parameters | Duet |
| Power | 3200W |
| Surface Temperature | 300℃ |
| Current | 13.3A |
| Carton Dimensions (mm) | 250 x 150 x 2220 |
| Gross Weight (kg) | 14.3 |
| Parameters | Duet |
| Coverage Area | 25-32 square metres |
| Voltage/Frequency: | 240V 50/60HZ |
| Unit Dimensions (mm) | 189 x 67 x 2125 |
| Net Weight (kg) | 12.3 |
| Warranty | Domestic - 5-year limited Commercial - 1-year limited |